Cultural Playbook
Why a Playbook?
This cultural playbook is a tool to help ask some questions that will help each of us build relationships, learn more about people, and respect differences, providing space to listen to and share our stories with others.
The apostle Paul served with "awareness, sensitivity, knowledge and [the] skills needed to respect different cultural values and beliefs to effectively lead and reach people with the gospel of Jesus Christ" (G.E. Dudley, n.d.), and the opportunities to serve are there for us as well.
What is Culture?
"The way of life, especially the general customs and beliefs, of a particular group of people at a particular time" (Cambridge Dictionary, 2019).
"Culture consists of the values, standards, and expectations at work whenever two or more humans interact. Etiquette, preferences, language, traditions and customs, food, dress, musical tastes, and belief systems all inform and shape culture" (G.E. Dudley, n.d.).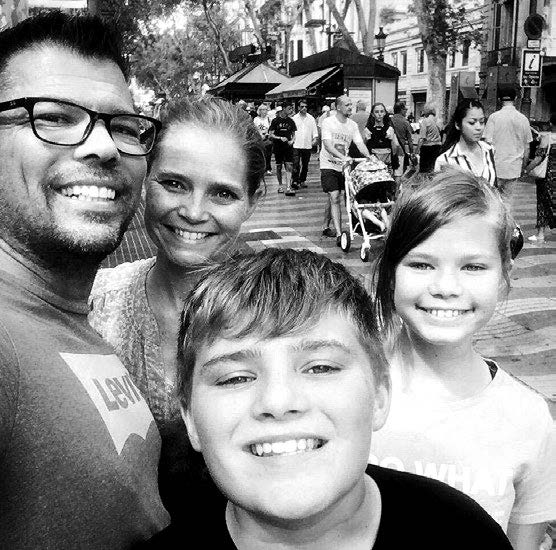 Introducing Global Workers
Scott & Melissa Williams
Scott and Melissa served for 11 years in El Salvador with a global ministry called King's Castle. They are transitioning to Spain in 2019 and we asked them, "Why?"
What is your motivation for making the move to Europe?
Scott: Spain has 46.3 million people with only 1.6% evangelical Christians. Knowing this, it gives us a tremendous opportunity to share Jesus with the people.
Melissa: From our time in El Salvador, we found that the best way to learn culture was to humbly live with the people and watch how they live. Going forward, we hope to form deep relationships with our new friends. We will learn the Spanish culture from them and learn its subtle nuances.
According to Brooks Peterson (2004),
cultural intelligence may be defined by this 'equation':
3 Questions
1. How might cultivating cultural sensitivity benefit me?
It can enhance my understanding of God and what my faith means

It can help me discover where God has already been at work, revealing Himself to others

It can …
2. How do I react to people of a different belief of a different belief or culture?
3. What personal beliefs or biases influence my interactions with someone of a different belief or culture?
I can gain knowledge about different cultures and people by:
Asking questions

Reading what others have experienced and learned

Studying a culture of interest - how it is similar or different from your experiences?

Observing people
ONE on One with Jonathan & Vera W.
Jonathan and Vera have served with the Pentecostal Assemblies of Canada (PAOC) since 2002. They first served in Ukraine, then in a Restricted Access Nation where they were involved in humanitarian work and in training pastors and discipling believers. They have been ministering in Southeast Asia since 2013.
How do you navigate different cultures?
Vera: We recognize the need to be flexible and continuous learners. What worked in one culture may not work in another. We have lived in an Orthodox country, a Communist country, a Buddhist country, and a Muslim country. Each one is so different than the other and it requires a willingness to learn and a desire to take the time to truly understand the culture.
What do you do to engage the people around you?
Jonathan: We work hard at being friendly. Each person has intrinsic worth and eternal value, and they are worth getting to know! Sometimes we do this by having meals together, inviting them to our home for a birthday party, or a practically helping someone in a time of need. Often, just being friendly or meeting small needs will lead to more doors opening.
Vera: It is important to learn the language. When people know they can talk to you in their language it allows for some wonderful conversations.
Jonathan: We ask lots of questions about the culture. People love to talk about their heritage and appreciate that you want to know about it, like "what is the meaning of this holiday?"
Are there any lessons you have learned from adapting to various cultures - the do's and don'ts?
Jonathan: Don't think your way is the only right way regarding culture. We try to find out why people do what they do, rather than jumping to conclusions or making judgements about the culture itself.
Vera: Practically speaking, we've learned that not all hand gestures mean the same thing. It's interesting how something perfectly normal in one culture can be very offensive in another one. We've learned to laugh at ourselves. People are usually quite gracious and appreciate the fact that you are trying to get to know them and their culture.
A Good Read
Preaching with Cultural Intelligence: Understanding the People who Hear our Sermons by Matthew D. Kim
Experienced presenters, public speakers, and teachers will learn how to explore culture differences and apply these learnings to heir conversations and presentations.
Order your copy today by visiting wordcom.org
+ Strategy
Diagnosing Your Cultural intelligence
These statements reflect different facets of cultural intelligence. For each set, add up your scores and divide by four to produce an average. It is the most useful to think about your three scores in comparison to one another. Generally, an average of less than three indicates an area for improvement, while an average of four to five reflects increased CQ awareness.
Rate the extent to which you agree with each statement, using the scale:
1 = strongly disagree | 2 = disagree | 3 = neutral | 4 = agree | 5 = strongly agree
Connection + influence = impact
Scorecard reprinted by permission of Harvard Business Review. Diagnosing Your Cultural Intelligence From "Cultural Intelligence" by authors' P. Christopher Earley and Elaine Mosakowski, October 2004. Copyright ©2004 by Harvard Business Publishing; all rights reserved.
Insights from Jeff - RAN Director
Jeff encourages those working with Restricted Access Nations (RAN) to engage the people they are called to serve by following these 'fruitful practices':
pursue language proficiency

start as observers to understand people and, with a posture of openness, consider ways to engage their culture

respect and appreciate local practices and approaches:

eating local foods and shopping at local shops keeping in mind and examining family needs (e.g. school, medical, dietary, etc.)

relating to people in ways that respect their culture (e.g. dress codes, norms of conversation, discipline of children, gender roles in the local culture, etc.)
The RAN region of the PAOC sends global workers to the non-geopolitical parts of the world where access to the gospel is restricted, requiring non-missionary identities, pioneering approaches, and creative strategies. Please visit rannetwork.com for more information.
A Church with a Plan
Working through RAN's unengaged initiative process, the church leadership, along with he congregation, have engaged with a specific group of people that have migrated to Ottawa. Through a prayerful discovery process hey identified the Zomi people (Myanmar). Today, there is a gathering of Zomi people who meet at their church who not only share their faith in Ottawa, but to Zomi people across Canada.
Peace Tower Church have also sent one of their own parishioners to work amongst unengaged and unreached people in a Muslim majority country.
Improving your CQ
Cultural Intelligence: Improving Your CQ to Engage our Multicultural World by David Livermore
Livermore provides helpful material for cross-cultural ministry and how to apply it to one's ministry in rural and urban contexts.
Order your copy today by visiting wordcom.org
Agree or Disagree
Earlier this year, Globe and Mail writers, Tavia Grant and Denise Balkissoon, asked Canadians an important question: Is it time for Canada to scrap the term visible minorities?
The United Nations has reprimanded Canada for using the term, suggesting that it leads to "stereotyping and further tensions between people groups" (2007). What do you think?
Grant and Balkissoon conclude that, "Visible minorities could be the majority by 2036" (2019). Where is this already a reality in Canada?
Let us know your thoughts in the comment section below!
References:
Black, Eric. "Cultural Intelligence: Does Jesus Care About Yours?" Baptist Standard, August 01, 2018, accessed February 26, 2019.
Brooks Peterson, Cultural Intelligence: A Guide to Working with People from Other Cultures (Boston: Intercultural Press, 2004), p13.
"CULTURE | Meaning in the Cambridge English Dictionary." Cambridge Dictionary. Accessed February 26, 2019.
Dudley, G. E. (n.d.). Cultural Awareness. Retrieved January 10, 2019.
Livermore, David A., Cultural Intelligence: Improving Your CQ to Engage Our Multicultural World Youth, Family, and Culture (Grand Rapids, MI: Baker Academic, 2009), p. 34.
Montserrat Fonseca Estrada. "Cultural Sensitivity in the Workplace." Penn State Extension, 6 May 2015.
Mosakowski Elaine, Earley P. Christopher. "Cultural Intelligence." Harvard Business Review. April 20, 2016. Accessed March 3, 2019.
Stetzer, Ed. "How High Is Your Cultural Intelligence?" The Exchange | A Blog by Ed Stetzer, 31 Oct. 2013.
"Term 'Visible Minorities' May Be Discriminatory, UN Body Warns Canada | CBC News." CBCnews. March 08, 2007. Accessed February 29, 2019.
"'Visible Minority': Is It Time for Canada to Scrap the Term?" The Globe and Mail. February 07, 2019. Accessed February 29, 2019.