Pentecostal Stories
When it comes to the call of God on a person's life, the sense of heroic sacrifice is not good enough, said Oswald Chambers, twentieth-century evangelist and teacher. In his book My Utmost for His Highest, he went on to say that having received the call to missions, preparation for missions is paramount and is not easily accomplished. He placed emphasis on the fact that the Word of God must scrutinize a missions' candidate, detecting any disposition that may hinder a profitable ministry.1
Sadie McLeod
Rooftop Teacher
Growing up in Edmonton, Alberta, Sadie McLeod's preparation for a call to missions began very early in her life. Sadie's mother was a kind and generous woman with a great concern for the welfare of others. She baked bread in her home not only for her six children, but also to share with those in need around her. Sadie was called upon to deliver those loaves of bread and she took on the job with great reluctance, often complaining about why her older brothers and sisters didn't have to do this task. Sadie's earliest missionary journeys took place in her very own neighbourhood, where she learned her first missionary lesson. Delivering bread to the needy was "working for Jesus," her mother said, and should not be done with complaining and grumbling.
That lesson was to bear fruit years later in Hong Kong when Sadie was tempted to complain about a multitude of inconveniences, like being woken up too early in the morning or having her evening meal interrupted by someone in need.
At the age of 12, Sadie surrendered her life to Jesus and, two years later, she was filled with the Holy Spirit at the Edmonton Pentecostal Tabernacle where she served in many different ministries. Her knowledge of missions grew into a longing to serve the Lord overseas. One of her favourite hymns was "Where He leads me I will follow," but she had no idea that one day the Lord would call her across the mighty Pacific Ocean.
Then, while attending a camp meeting in Sylvan Lake, Sadie sensed God calling her to China. He gave her a clear vision of masses of Asians thronging through city streets day and night. (Some years later, she remembered that vision when driving through the streets of Hong Kong for the very first time with missionary Elmor Morrison. She exclaimed about the masses of people everywhere, thinking there was a special celebration taking place. Rev. Morrison told her, "These are the people you've come to work with!")
With her call confirmed, Sadie eagerly wrote to PAOC's Missions Department, applying for a post in China. The response came back, "Finish high school first." The response reminded her of an occasion when she had shared with her home church about her call to China. She overheard someone say, "That skinny, white-faced kid will never get to China!" It was true she had never been in good health as a child, but she was assured that God knew what He was doing and she was determined that nothing was going to prevent her from fulfilling His call.
Sadie honoured for years of service, Hong Kong.
So, she finished high school and then went on to what is now PAOC's Summit Pacific College, where she graduated in 1941. To more fully prepare for ministry in China, she also took medical, cooking, and accounting courses, and a year of language study. Now, she was prepared for China.
But wait, not quite.
Perhaps there was a lesson in patience yet to be learned as Sadie waited for another year to be appointed by the Missions Department. Filling the time wisely, she became a deaconess in her church.
Meanwhile, God, in His great love and wisdom, had been preparing a co-worker for Sadie. Blanche Pardo, from Toronto, had dedicated her life to Christ as a child. Some years later, she gladly answered the call to missionary service in China. It was then that her mother told her of an experience she'd had years earlier when she'd been severely ill and in a deep coma. She had been standing at the gates of heaven. Jesus invited her to enter, but He also gave her an alternative. She could return to earth and raise her little girl, Blanche, to be a missionary. Her mother turned her back on all the beauties of heaven to fulfill the commission that Jesus offered her. As Blanche trained as a teacher and a nurse, she knew her mother's prayers were following her through all those formative years of preparation and that they would find their ultimate fulfilment in China. 2 Soon, a sovereignly arranged meeting took place between Sadie and Blanche, and, by 1947, the two were ready to sail to China. Were these two young, single women prepared to meet conditions that were going to be harsher than they could ever imagine?
Certainly, the fact that they had both received a direct call from the Lord fortified their purpose for being in China, and, then, as they sailed together from San Francisco to China, they pulled out a scripture from their Promise Box. It was Isaiah 45:2. "I will go before thee, and make the crooked places straight (KJV)." This assurance, their years of preparation, and knowing they were in China by God's design would surely carry them through any adversity they would face.
1 My Utmost for His Highest, The "Go" of Preparation: September 24, Oswald Chambers
2 China/Hong Kong 40th Anniversary Booklet; courtesy of Eva Winsor, PAOC Hong Kong/China Archives
Many of the details in this article were gleaned from Missionaries, Messages and Memories: Phyllis Hutchinson; "That Skinny, White-faced Kid," pages 253 – 289, courtesy of the PAOC Archives
Niels & Annina Sorensen
Professionals Find Love in Argentina
For a young, single missions' candidate, responding to the call of God to missions is not always an easy choice. "Do I delay my departure and wait for God to provide me with a spouse or do I take a step of faith and head out to the field trusting in God's timing and provision of a marriage and missions partner?"
In 1912, at age 23, Niels C. Sorensen sailed from Denmark to America. He had big plans. Not so much to find a wife, but, like so many other young men of that era, to seek his fortune in a land of plenty. He did find work, but the riches he gained were of an unexpected kind.
One evening, Niels attended an evangelistic meeting and surrendered his life to Christ. The desire for riches was replaced with a passion to share the gospel. On being filled with the Holy Spirit, he felt a strong tugging on his heart to go to Argentina as a missionary. In obedience, he left America and sailed to Buenos Aires.
On arrival, learning the language became an immediate necessity and he found an older missionary who was willing to provide language lessons in his home.
Meanwhile, Annina had received a call from the Lord as a young woman while working in a hospital psychiatric ward in Denmark. God clearly revealed to her that she was to give up her profession and serve Him overseas in Argentina. Annina enjoyed her work, yet she was resolved to be obedient to the Lord. Her family, however, was vehemently opposed to this decision. It was simply not an option, her parents said, for a young lady to travel alone to a strange country – especially to be a missionary. Annina's decision caused alienation from her family, but there was no stopping her.
Annina arrived in Argentina in 1913. Needing to learn the language, she found a providential resource – the very same missionary that Niels encountered a year earlier. Annina and Niels met in the missionary's home and were amazed to find that they were both from Denmark from towns just 30 miles apart. After a year of language study, with the absolute assurance that God had called them to minister together, they were married.
They were both from Denmark from towns just 30 miles apart
They settled in the town of Bolivar and eventually joined the newly formed Pentecostal Assemblies of Canada, represented in Argentina by Dr. C. M. Wortman.
Although he went to America to find his fortune, Niels Sorensen instead found a wife and ministry partner in Argentina. For 40 years, they sowed the seed of the Gospel, influencing countless lives for eternity. Niels passed away in 1953, but Annina faithfully carried on their work and, just a year later, witnessed a rich harvest in Argentina.
In 1954, an unknown evangelist, Tommy Hicks, arrived in Buenos Aires and God sent tremendous revival. Thousands of people came to the Lord. People became hungry for God's Word and new churches sprang up across the country. It was the answer to the prayers of so many missionaries in Argentina. Among them, Niels and Annina Sorensen; two young singles who answered the call and whom God brought together for the fulfillment of His plans and purposes.
Many of the details in this article were gleaned from Missionaries, Messages and Memories: Phyllis Hutchinson; "Let's Go, Gang!" pages 1-12, courtesy of the PAOC Archives
Sophie Nygaard
Fashion Designer turned Preacher
Answering the call to missions is life-changing and can shatter all preconceived ideas about life on the field. And, the journey itself, to the field of choice, may also present some unexpected challenges.
In the early 1900s, Sophie Nygaard was a milliner in Winnipeg, Manitoba. Well-known for her exquisitely designed ladies' hats, she lived a pleasant, quiet life.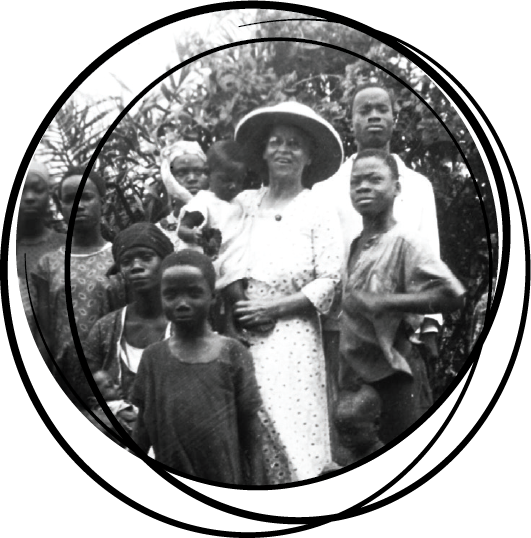 Sophie with some of the mission family
One evening at her church, Rev. John Perkins shared about his work in Liberia and gave an urgent appeal for volunteers to join him in ministry there.
Sophie was convinced God was not calling her to that country. A young lady from her church, Martha Marr, had left for Liberia recently. Soon after her arrival she died from malaria. Yet, Sophie was convicted. Fervently seeking the Lord, she wondered: "Would God really send me overseas just to die an untimely death?"
She found her answer in the Bible: "I shall not die, but live, and declare the works of the Lord." (Psalm 118:17 KJV). This promise gave her the courage to fill Martha Marr's place. In April, 1919, Sophie boarded an ocean liner and began her journey across the Atlantic Ocean.
After days and nights of endless tossing, they finally reached the Liberian coast, anchoring offshore a mile from Cape Palmas. Sophie was helped into a chair crudely fashioned out of canvas and attached to the ship's boom. She clung tightly to her seat as the boom swung it up and over the side of the ship, lowering her down to a small boat rocking in the waves far below. She took her place on a backless bench and strong, experienced seamen rowed through rough surf, keeping time with their songs, as they manipulated the boat safely to shore.
On the dock, a cork sun helmet now graced Sophie's head – a far cry from her exquisite millinery creations. Fashionable boots were replaced by high-top ones to guard her from snakes and mosquitoes.
After an overnight rest, Sophie joined a party of carriers setting out on foot over a narrow trail for the 35 mile journey deep into the Liberian interior. The men went ahead, chopping down vines that covered the path. When Sophie became exhausted, she climbed into a swaying hammock suspended from a pole balanced on the heads of two men. Each night, after dark they would find a crude hut for her to rest in.
A few days later, they emerged from the tropical forest and faced a muddy river. Across the river was the village of Blebbo; Sophie's first home in Liberia.
For 40 years Sophie brought the gospel to Liberians hungry for the truth. Her lifelong motto was, "Nothing but my best is good enough for Jesus." 1 She helped pioneer the Tchien missions' station upcountry in Zwedru where numerous PAOC missionaries would serve. 2 She eventually took charge of a newly established missions' station at Putu, 75 miles from the coast, where many of the boys and girls under her ministry became evangelists, pastors, and leaders. She faced harsh living conditions, superstition, and demonism. Yet, at the end of her time in Liberia, Sophie had no regrets. Fulfilling her promise, she had given her very best for the Lord and reaped a harvest for His Kingdom.
Sophie passed from this life in 1976, aged 91. She had journeyed from stylish hats to a pith helmet and finally to a crown of righteousness.
1 Thomas Miller, Canadian Pentecostals: A History of the Pentecostal Assemblies of Canada, 230
2 Thomas Miller, Canadian Pentecostals: A History of the Pentecostal Assemblies of Canada, 229
Many of the details in this article were gleaned from Missionaries, Messages and Memories: Phyllis Hutchinson; "Under a New Hat" pages 12a - 34, courtesy of the PAOC Archives
Kathy Bousquet
Kathy Bousquet spent eight years as a global worker in Romania. Her passion for missions continues as she ministers prayer, counsel and encouragement to our global workers at home, and worldwide. Kathy has three children, five grandchildren and six great-grandchildren